At Juniper Sustainability Isn't Just Skin Deep
Our Values
Service    *    Quality   *    Sustainability    *    Creativity   *    Compliance
Juniper aim to demonstrate that promotional merchandise is a sustainble part of teh marketing mix. We supply well made, sustainably sourced and responsible products, that are a great way for your brand to connect with your clients, audience, and teams. 
We want to transform the perception of promotional merchandise by proving that goods can be: 
Made to last. 
Made sustainably. 
Made with creativity, passion, and care. 
Mission
Juniper's Mission is to be the leading UK supplier of notebooks and other corporate promotional merchandise, with a highly regarded specialism in sustainable material options. We aim to create "meaningful merchandise" that promotes recycled and recyclable materials and be an industry leader in proving that corporate gifting can be part of the marketing mix future. Juniper wants to be part of the solution and not the problem.
Vision
Our vision is to provide multiple options for high quality merchandise that can be customised to the client demand, and to move away from commodity bulk selling of low value, low sustainable goods. By ditching past materials, we now consider no longer sustainable and pivoting to recycled materials, we aim to substantially reduce our own carbon footprint. By continuing to expand our UK production and reduce our production overseas, we also want to reflect the best of British and create sustainability here, by way of good work opportunities and training for a growing workforce. We will continue to invest where we can in energy saving initiatives and encourage our stakeholders to join us on our journey.
Click here to download our Sustainability Plan.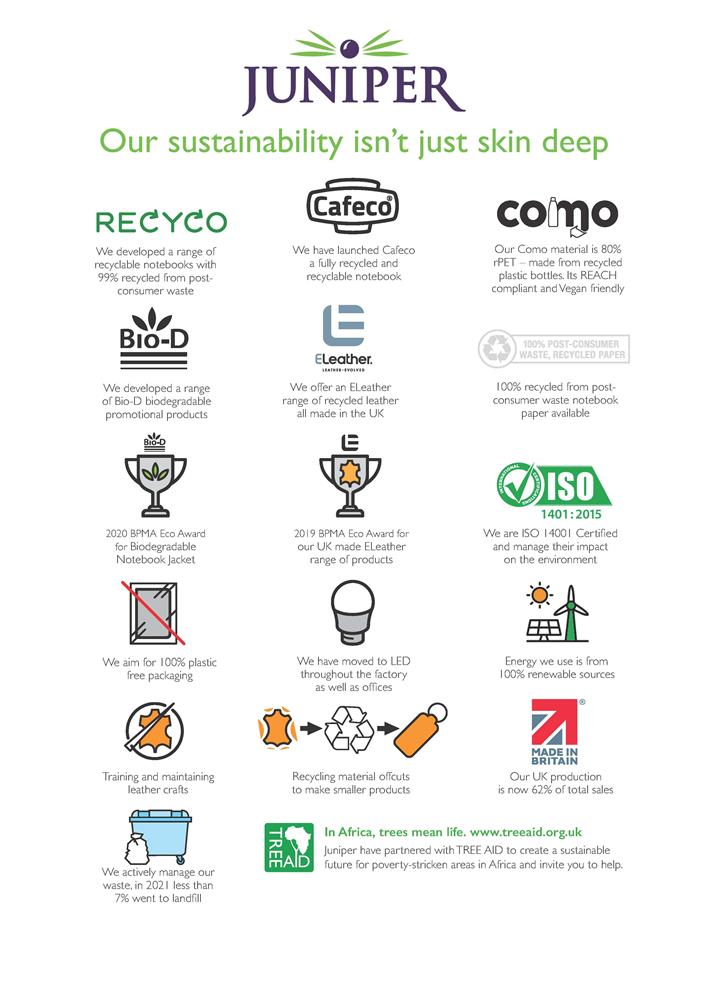 Juiper are pleased to announce that we have completed the analysis of our Carbon Footprint for the base year of 2022. We are proud to publish our first Carbon Reduction Plan and would like to thank Enistic for their support and help in gaining PPN 06/21 compliance.
We have worked to reduce our scope 1&2 emissions over the last 5 years, we have switched to 100% renewable electricity in 2021 and will switch to a green gas contract in 2024. We continue to work to Zero Waste to Landfill by recycling and reworking manufacturing waste and working with our waste consultants to look for every opportunity to recycle or reuse. Where we have been unable to reduce emissions completely, we have chosen to invest in two carbon reduction projects.
We are delighted to have supported Cornish Seaweed Farming Innovation in Cornwall, farming seaweed for carbon removal and projects aligned to creating bio packaging and bio - alternative fuels.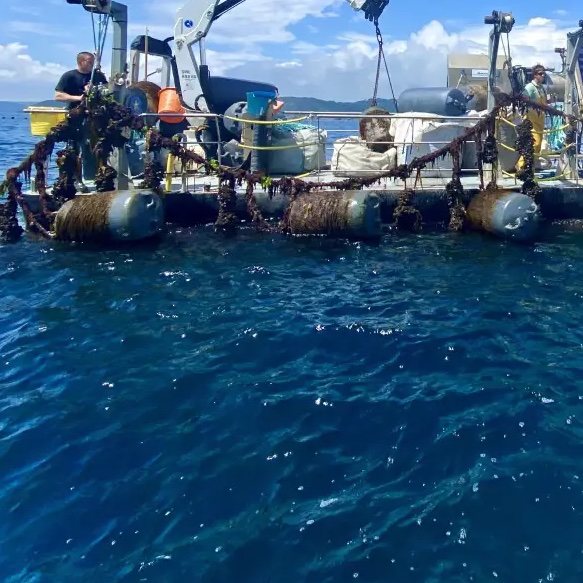 As well as helping to protect the Peatland of the Rimba Raya, protecting highly endangered ecosystems and protecting the carbon rich peatland forest.